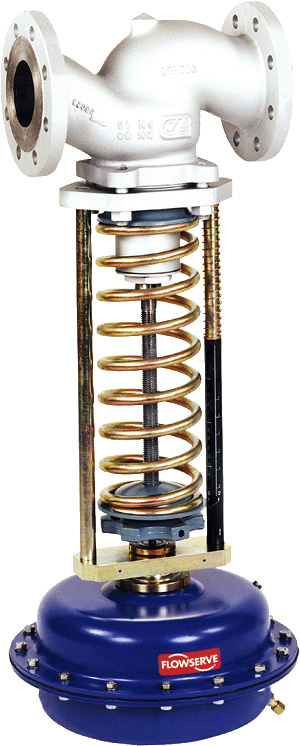 The SelfAct pressure regulators are available as pressure reducing- (keeping the downstream pressure constant) and pressure relief valves (keeping the upstream pressure constant). Suitable for steam, non inflammable vapors and gases and neutral liquids.
The sturdy plug head guide minimizes vibration and wear. The valve stem is sealed by a stainless steel bellows.
Up to six adjustment ranges are available per size, depending on the mounted actuator.
Easy control point setting with the hand wheel at any time. The modular design allows the mounting of the same actuators on the reducing- and relief valves. Easy mounting with a lock-nut.
For operating temperatures above +100°C / +212°F a water filled seal tank protects the diaphragm against overheating.
The SelfAct pressure regulators are capable of operating within temperatures ranging from -10 to +400°C (14°Fto + 752°F) according to the selected material.
PRODUCT RANGE
DIN (reducing valve): DN 15 – 200 / PN 10 – 40
DIN (relief valve): DN 15 – 100 / PN 10 – 40
Materials: Ductile iron, Carbon- and stainless steel
End connection: Flanged
Leakage class: DIN 3230 – BO, LR 1
Adjustment range: 0,1 to 20 bar g
CERTIFICATES and GLOBAL STANDARDS
EN ISO 9001:2008
PED 97/23/EC Module H
Machinery Directive 2006/42/EC
DIN, EN, AD-Merkblatt 2000, EN 1349, EN 60534

Features

Modular design
Maintenance free
Easy and simple product sizing
Bellows sealing
Easy control point setting
Short delivery time