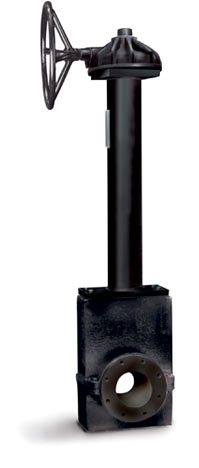 Features
No packing to maintain, ever
Same face-to-face as gate, plug or ball valves to 12"
Sleeve is the only wetted part
Position indicator, heavy-duty sleeve
100% full port design
Bi-directional bubbletight shutoff
Materials of Construction
Cast iron body
Carbon steel sealed yoke
ANSI Class 125/150 flanges
When ordering a Series 75B, please specify which of the following operating options your application requires:
AWWA nut
Handwheel on top with no bevel gear
Bevel gear operator
Bevel gear operator with dial gear (G.P.I) position indicator
The Series 75B on the right is shown with a bevel gear operator and a 90° handwheel.
Description
The Series 75B manually operated Pinch Valve is a reliable, maintenance-free, cost effective valve designed for tough slurries and abrasive and corrosive chemical applications below ground.  This pinch valve was designed specifically for underground service. It is sealed with an epoxy coating and provides double containment. Optional position indicators are available.  There are no seats to grind, no stuffing boxes to repack, and no packing gland to adjust, ever, with the Series 75B.  The pinching action is on centerline so the valve closes on a smooth venturi and is self-cleaning.The heart of this unique valve is the durable, flexible rubber sleeve which is reinforced with high strength fabric.  The sleeve, which is the only part of the valve exposed to the process, eliminates maintenance and the need for expensive, exotic body materials.  Additionally, valve operation will not freeze and operating torques remain constant.Series 75B Pinch Valves have the same face to face as gate, plug, or ball valves, ANSI 16.10 up to 6" size; sizes 8", 10", and 12" Series 75B's are available to ANSI 16.10 face to face with Reduced Port Sleeve.
Downloads
Applications
Specifications
Technical Data