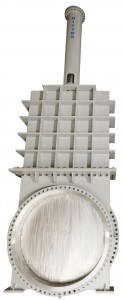 Design Features:
Fabricated Bonneted Throttling Knife Gate Valves are an economical alternative to the Jet Flow Gate used when pressures are typically under 100 psi. The valve is used primarily for free water discharge and flow control on dams and reservoirs.  The valve includes some of the features of the Jet Flow Gate with a unique design that permits them to open smoothly in free discharge conditions, where there is pressure on the upstream side and zero pressure on the downstream side. UHMW guides are located on the downstream side of the gate to provide full support throughout the entire length of travel. Downstream side of the valve is larger than the upstream side which serves to resists damage from cavitation and vibration. Square bottom gate design for gross flow control
Throttling Gate Valves (H-340-B) Specifications
SIZE RANGE:
Through 144″
PRESSURE RATING:
up to 100 psi
SEATING:
Metal or Resilient
MATERIALS:
Valves are available in solid or wetted parts construction in any weldable alloy. Typical construction is carbon steel body with stainless steel wetted parts.
Downloads