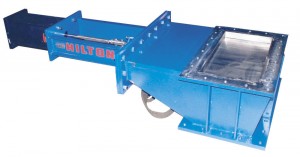 Design Features:
Fabricated Material Handling Knife Gate Valves are specifically designed to be used on dry bulk materials where the valve is installed horizontally in a vertical pipe. A displacement pocket is provided which enables the valve to close through a standing column of packed material. Bonneted or bonnetless configuration. Available with round, square, rectangular or combination port with a round port on one side and a square or rectangular port on the other side, eliminating the need for a transition piece.
Material Handling Knife Gate Valves (H-290) Specifications
SIZE RANGE:
Through 48″
TEMPERATURE RANGE:
up to 2000°F
SEATING:
Metal or Resilient with options for removable seat
MATERIALS:
Valves are available in solid, wetted parts or trim construction in any weldable alloy, including Stainless Steel, Hastelloy, Inconel, Monel and Titanium.
ABRASIVE SERVICE:
Optional abrasion and corrosion resistant designs with hard facing available in Stellite, Tungsten Carbide, Pulse Fusion.
VALVE STYLE:
H-290, Bonnetless Valve
H-290-B, Bonneted Valve
Downloads