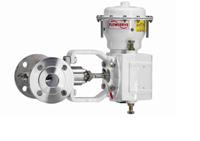 Applications:
Pulp and Paper, Water Boosting, Water Cooling, Synthetic Fuels, Synthetics, Power Generation, Syrups, Water Treatment, Safety Systems, Organic Chemicals, Scrubbers, Petroleum Distribution, Toxic Services, Pharmaceuticals, Plastics, General Purpose, Utility, Valuable Liquids, Pollution Control, Slurries, Polymers, Water, Process, Waste Water, Sump Service
Industries:
Condensate Systems, Utilities, Cooling Systems, Waste Processing, Cooling Water – Metals, Distillation, Gas Treatment, Gas-to-Liquids, Power Generation, Miscellaneous Services, Polymers, Auxiliary, Slurry Processing, General Industries, Slurry Transfer, Solvents, Steam Systems, Chemical and Liquor, Volatile Organic Compounds
Standards:
DIN EN 1275, ISO, ASME (ANSI)
The Flowserve Valtek Maxflo 3 Control Valve is a high performance eccentric rotary plug valve. Its high capacity makes this valve extremely economical because, in many cases, it is appropriate to use a Maxflo 3 valve a size small than the competitors' choice.
Hard-alloy trim is standard, with even harder alloys, ceramic, or soft-seated trims optional, all with several choices of reduced capacity to closely match the Maxflo 3's capacity to the demands of the system. An optional ISA 75.08.01 or DIN EN 558-1/2 series 37-38 long-pattern body makes this valve an easy drop-in replacement for a globe control valve.
Environmentally friendly rotary shaft seals last longer and seal tighter than shaft seals in rising-stem valves. PTFE-Chevron packing is standard, with many other choices and special environmental packings available for when even extra consideration is needed.
An internal Megastream® noise-reduction device is available to reduce noise by typically 10dB in gaseous services. The Megastream® diffuser does not affect the valve's installation dimensions and is easily serviced with the same tools used for the standard Maxflo 3 maintenance.
The Maxflo 3 is suitable for up to 90% of all applications. This valve is available in pressure classes 150 through 600 (PN 15-63). Rangeability exceed is 160:1. Temperature ratings of -150F to +750F (-100 to 400C), and body materials of Carbon Steel, Stainless Steel and Chemical-Resistant Alloys. The non-crossover shaft and the valve's straight-through flowpath give the Maxflo 3 a very high capacity for its size and make it resistant to erosion, flashing and light cavitation.
Features
For exceptional safety, the bonnet retains the valve shaft which cannot blow out even if the actuator is removed with the valve pressurized
Economical for common service applications because of wide rangeability and tight (Class IV) shutoff
Available in sizes 1 through 12 inches (DN25-300)
Available in ANSI Class 150 through 600 as well as PN16, PN40 and PN63
Available in Wafer, Flanged and long-Pattern flanged