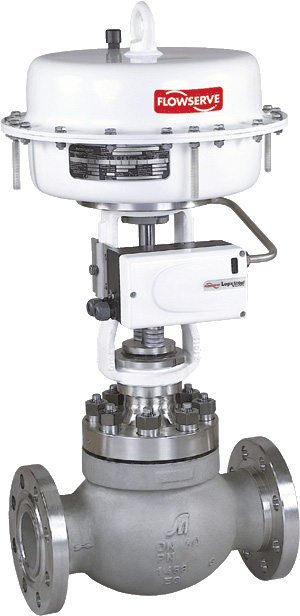 Industries:
Steam Systems, Waste Processing, Water Supply and Distribution, Water Treatment, Polymers, Snowmaking, Dewatering & Water Supply, General Industries, Cooling Water – Metals, Pharmaceuticals, Cryogenic, Desalination
The FlowPro control valve is a high-performance, general application valve coupled with the high-thrust FlowAct pneumatic diaphragm actuator. The modular design allows by using the same body with different types of bonnets, trims and actuators, the reduction of spare parts and offers an interchangeable valve for a broad range of industries and applications.
The FlowPro valve is capable of operating within temperature ranging from -196°C up to +538°C (-321°F up to +1000°F) according to the selected material.
Precise machined plug contours and long stroke lengths results in an excellent control performance. Easy upgrade from standard trims to low noise- or cavitation control trims. Up to 9 kvs/cv-values available per size, allows a wide range of process conditions for each size.
The FlowPro control valve offers a sturdy plug head guide for minimizing vibrations and wear. Due to the design of a profile-ring – very reliable sealing between body and seat, easy maintenance, no machining required of the body seat area when changing the seat.
With the high quality, live loaded TA-Luft desig (PTFE or Graphite packing) we reach a leakage class
better than 10-8 mbarl/s
FlowPro meets the requirements of SIL 3/4
PRODUCT RANGE
DIN: DN 25 – 300 / PN 63 – 160
DIN: Angle design DN 25 – 200
DIN: 3-Way valves DN 40 – 200 / PN 63 – 100
ANSI: 1" – 12" / Class 600
Materials: Carbon- and stainless steel, special materials
End connection: Flanged and butt weld
Leakage class: IV, IV-S1, V and VI
Options: Bellows seal-, Low- and High temperature extension bonnets
Low noise- and cavitation control trims
Live loaded packing systems, TA-Luft up to +450°C (842°F)
Electrical linear- and electrical multi turn actuators
CERTIFICATES and GLOBAL STANDARDS
EN ISO 9001:2000
PED 97/23/EC Module H
DIN EN 161, DIN 3394
TA-Luft VDI 2440 (Clean Air Act) / DIN EN ISO 15848-1
ATEX 94/9/EC, Machinery directive 98/37/EC
DIN, EN, AD-Merkblatt 2000, ANSI, ASTM, ISA
EN 1349, EN 60534
NAMUR
SIL 3 / 4 acc. to IEC61508 DNV Type approval (for classification of Ships)
Features
Modular design
Standardized low noise- and cavitation control trims
Profile-ring sealing between body and seat
Angle- and 4 Flange body design available
Heavy duty design for electrical rotary actuators in power plants
Short delivery times