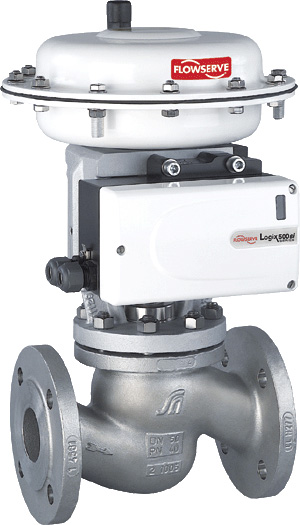 Industries:
Water Supply and Distribution, General Industries, Pharmaceuticals, Steam Systems
The FlowPak control valve is a general service valve coupled with the high-thrust FlowAct pneumatic diaphragm actuator. The modular, simplified and low-complexity design provides an easy and simple product sizing and selection. This results in delivery times within 1 week.
The FlowPak valve is capable of operating within temperature ranging from -29°C up to +250°C (-20°F up to +482°F) according to the selected material.
Precise machined plug contours and long stroke lengths results in an excellent control performance.
The FlowPak control valve has a very compact, light-weight design, which offers up to 10 kvs/cv-values per valve size – allows a wide range of process conditions for each size.
Due to the design of a profile-ring – very reliable sealing between body and seat, easy maintenance, no machining required of the body seat area when changing the seat.
PRODUCT RANGE
DIN: DN 15 – 100 / PN 10 – 40
ANSI: 1/2″ – 4″ / Class 150
Materials: Carbon- and stainless steel
End connection: Flanged
Leakage class: IV, IV-S1 and VI
Options: TA-Luft
Electrical linear actuators
CERTIFICATES and GLOBAL STANDARDS
EN ISO 9001:2000
PED 97/23/EC Module H
TA-Luft (Clean Air Act)
ATEX 94/9/EC, Machinery directive 98/37/EC
DIN, EN, AD-Merkblatt 2000, ANSI, ASTM, ISA
EN 1349, EN 60534
NAMUR, VDI/VDE 3845 and 3847
Features
Modular and compact design
High kvs- /cv- values
Simplified, low-complexity product line
Profile-ring sealing between body and seat
Direct mounted accessories (no piping required)
Short delivery times