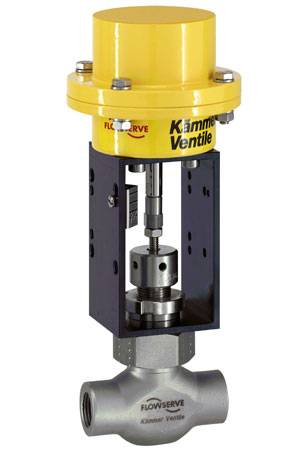 For Flowserve, a Low Flow valve is a valve with a range of Cv value between 0.01 to 4.7. Flowserve also manufactures Micro Flow valves designed to offer lower Cv than 0.01 and down to 0.0000012. In the Flowserve control valve portfolio a wide range of valves are designed to offer both ranges. These products are widely used for applications in laboratories and industrial research departments as well as industrial processes requiring high degrees of control accuracy.
Series 080000
Flowserve Kammer Series 080000 low flow laboratory valves are designed for precision controlling. The body is manufactured from bar stock stainless steel and is easily adapted to meet application requirements. Together with the series 1 actuator it forms an extremely compact control valve.
Extremely low Cv values down to 0.000063 with reproducible trim characteristicsManufacturing of micro Cv trims is one of our core competencies.
Features
Compact 1/4 inch micro flow laboratory valve
Cv range down to 0.000063
Special materials optional
Standard, Normalizing fins, Bellows seal bonnet options
Globe or Angle design
Special end connections possible
Series 385000
Series 385000 is the 1/2″ version of Flowserve`s low flow valve product offering. End Connection sizes of up to 1″ or DN 25 are possible. The cast body design allows for pressure ranges of up
to CL 600 / PN 160 with a max. Cv of 4.7.
Features
Cast Body Design
Cv range from 0.00054 up to 4.7
Special Materials optional
Standard, various bonnet options, Bellows seal
Series 020000
Series 020000 are split body style valves manufactured from forged material. This engineering design easily adapts to meet application requirements. Furthermore this design makes the valves easy to clean and maintain.
Configurations as globe, angleor 3-way valve design foe easy maintenance. Standard 1/2″ Body size with end connection sizes up to 1″ (DN25). Pressure classes up to CL2500 or PN400
The seat is clamp in between the upper and lower body, which allows to change thr trim without any special tools.
Features
Various body styles as split body
Forged 1/2 inch stainless steel body
Flanged or srewed ends
Low temperature extension optional
Pressure classes up to CL2500 or PN400
Low flow capability down to Cv= 0.000063
Series 030000
Series 030000 is a "General Service" Low Flow Valve. The standard body material of this 1/2″ valve is cast stainless steel. Various end connection types, such as screwed ends or flanges as well as special end connections for laboratories or food and beverage applications, the Series 030000 is our choice for all standard application where the Cv value is below or equal to 2.9
End connection sizes from 1/2″ up to 1″ with a Cv range from 0.0022 to 2.9
With APV flanges PN10 the series 030000 becomes a light duty 1/2″ valve for the food and beverage industry for carbonizing applications.
Features
1/2 inch General Service Low Flow Valve
Stainless Steel
Bellows Seal, Normalizing fins, Standard bonnet
1/2 inch to 1inch End Connections
Cv from 0.0022 up to 2.9
Suitable for carbonizing services
Series 185000
Flowserve Kammer microflow series 185000 are 1/2″ valves designed for precision controlling. The body made of carbon steel or stainless steel forged or for any other application out of
barstock material can easily adapted to meet application requirements. Together with the series 1 actuator it forms a compact control valve (285000).
Features
Compact 1/2 inch valve
Cv range down to 0.000063
Special materials
Standard, normalizing fins, bellows seal, cryogenic bonnet options
Globe, Angle or 3-way design – various