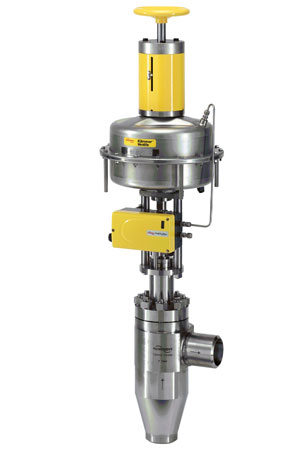 Applications:
Hydrocarbon Processing, Oil Production, Petrochemical Processing, Powering Pumps and Compressors, Slurries, Visbreaking, Waste Processing, Waste Treatment, Boiler Circulation, Boiler Feed Booster, Decoking, Feedwater Booster, High Pressure Water Injection
Industries:
Chemical Processing, Oil and Gas, Power Generation
Extreme pressure differentials frequently impact the process systems of the power generation, petrochemical and industrial chemical industries. For this reason, customers specify valves with continuous, linear flow characteristics, a long and uniform service life, and low maintenance costs.
The Multi-Z is ideal for system startup and boiler feed-water recirculation. This control valve meets severe service requirements such as solids in liquid media, high sound levels, high temperatures, dirty service, cavitation formation and corrosion.
The multi-stage trim design of the Multi-Z eliminates cavitation and provides extended trim life. Its unique venturi outlet nozzle provides further trim and seat protection from high velocity, cavitation and flashing, and its linear multi-stage plug design provides greater rangeability and higher throttling resolution.
Features
Eliminates Cavitation
Forgiving of solids in the process
High rangeability
Custom characteristics
Protected seat from high velocity
Unbalanced or balanced trim design