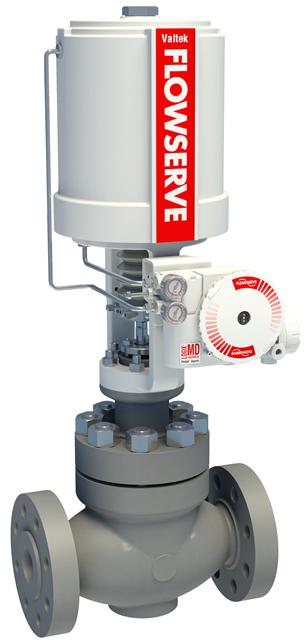 Applications:
Water, CO2 Injection, Chemical Processing, Condensate, Petroleum Production and Refining, Cryogenic Service, High Temperature Service, Hydrocarbon Processing, Petrochemical Processing, Corrosive Services
Industries:
Chemical Processing, Gas-to-Liquids, LNG, Slurry Processing, OEM, Oil and Gas, Power Generation, Nuclear Power
Standards:
ASME (ANSI), ISO 9001:2000, ISO
The Mark 200 is one of the most dynamic Flowserve control valve offerings. Designed to accommodate a broad spectrum of trim options, the Mark 200 provides increased control and protection while significantly reducing noise and cavitation. The valve comes in standard 2in. to 16in. sizes as well as custom sizes based on the Mark 200 platform to suit a variety of valve needs.
With a clamped-in seat ring, the Mark 200 has been designed for easy maintenance and flexibility. The seat retainer (cage) in the Mark 200 can be changed out to provide an exceptional variety of severe service options.
The Mark 200 comes in standard 2" to 16" designs and pressure classes from 900 to 2500, all are engineered to order. Short lead times and on-time deliveries continue to be Flowserve benchmarks.
Features
High-pressure, maximum-flow capacity
The Mark 200 replaces a long list of forerunners to handle a wide selection of process control applications for high-flow, high-pressure, and extreme temperature applications in the oil and gas and power industries. The Mark 200 achieves a 20% to 60% higher flow capacity than comparable globe valves.
Cavitation control / Noise attenuation
The Mark 200 is ideal for solutions required to handle high pressure, high pressure drops, high Cv, noise abatement, and cavitation control. These trim solutions include CavControl, ChannelStream, MegaStream, Stealth, and TigerTooth. Larger galleries and longer strokes provide finer control and more stages of severe service protection in smaller valves.
Smaller, lighter, cost effective
Achieve high-pressure and maximum-flow capacity that outperforms competing brands with a significantly smaller, lighter, and more cost-effective Mark 200 control valve.
Severe service solutions
The Mark 200 is ground-breaking in its ability to accommodate a broad spectrum of severe service trim solutions. Flowserve technical experts work directly with our customers to design, develop, manufacture, and install engineered-to-order severe service valves.
Applications:
Power applications:
Boilerfeedwater Control
Boilerfeedwater start-up control
Deaerator level control
Feedwater heater level control
HP feedpump recirculation
Oil & Gas applications:
EDP (Emergency depressurizing)
Pump recycle/bypass
Well head injections
Gas lift