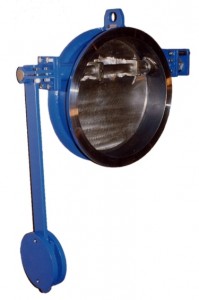 Design Features:
The H-940 Tilting Disk Check Valve is similar to H-920 Wafer Swing Check, except the shaft is closer to valve centerline; this balances the disk so that the valve will open at a low pressure differential.
Available with O-ring shaft seals to reduce friction. Available with wafer-style body (as shown) or with full flange with threaded bolt holes. Available with external counterweight or spring.
The H-940 can be fabricated from any weldable alloy and is clearly marked to show direction of flow.
Available in sizes 12″ and larger.
Tilting Disk Check Valve (H-940) Specifications
SIZE RANGE:
Through 54″
TEMPERATURE RANGE:
up to 1000°F
PRESSURE RATING:
up to 150 psi
SEATING:
Metal or Resilient
MATERIALS:
Valves are available in solid or wetted parts construction in any weldable alloy, including Stainless Steel, Hastelloy, Inconel, Monel and Titanium.
ABRASIVE SERVICE:
Optional abrasion and corrosion resistant designs with hard facing available in Stellite, Tungsten Carbide, Pulse Fusion.
Downloads