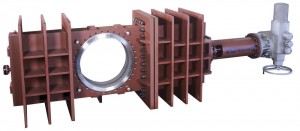 Design Features:
Fabricated Thru-Port bonneted or bonnetless designs with unobstructed round port or diamond shaped opening for precise flow control.  Can be used for slurries, solids and granular applications. Available with resilient seat for tight shut-off.
Thru-Port Gate Valves (H-1500) Specifications
SIZE RANGE:
Through 48″
TEMPERATURE RANGE:
up to 1200°F
PRESSURE RATING:
up to 400 psi
SEATING:
Metal or Resilient with options for removable seat
MATERIALS:
Valves are available in solid or wetted parts construction in any weldable alloy, including Stainless Steel, Hastelloy, Inconel, Monel and Titanium.
ABRASIVE SERVICE:
Optional abrasion and corrosion resistant designs with hard facing available in Stellite, Tungsten Carbide, Pulse Fusion.
VALVE STYLE:
H-1500 Round Port Valve
H-1500-V Diamond Port Valve
Downloads