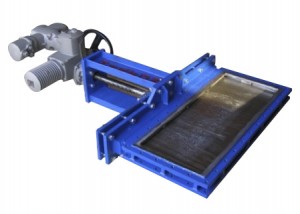 Design Features:
Fabricated Square and Rectangular port knife gates are custom manufactured for each specific application. Available with resilient seat for tight shut-off and with bonneted, or bonnetless configurations.
Square / Rectangular Port Knife Gate Valves (H-200-R) Specifications
SIZE RANGE:
Through 72″
TEMPERATURE RANGE:
up to 1200°F
PRESSURE RATING:
up to 300 psi
SEATING:
Metal or Resilient
MATERIALS:
Valves are available in solid or wetted parts construction in any weldable alloy, including Stainless Steel, Hastelloy, Inconel, Monel and Titanium.
ABRASIVE SERVICE:
Optional abrasion and corrosion resistant designs with hard facing available in Stellite, Tungsten Carbide, Pulse Fusion.
VALVE STYLE:
H-200-R, Bonnetless Valve
Downloads