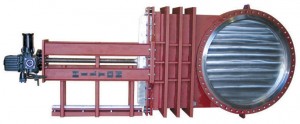 Design Features:
Fabricated Bonnetless Gate Valve built to U.S. or International Standards. Available with wafer or special extended face-to-face dimensions for replacement of existing valves.
Bonnetless Knife Gate Valves (H-200) Specifications
SIZE RANGE:
Through 144″
TEMPERATURE RANGE:
-40°F to 2000°F
PRESSURE RATING:
up to 300 psi
SEATING:
Metal or Resilient with options for removable seat, inflatable seal or grease seal
MATERIALS:
Valves are available in solid or wetted parts construction in any weldable alloy, including Stainless Steel, Hastelloy, Inconel, Monel and Titanium.
ABRASIVE SERVICE:
Optional abrastion and corrosion resistant designs with hard facing available in Stellite, Tungsten Carbide and Pulse Fusion.
VALVE STYLE:
H-200, MSS SP-81, TAPPI TIS 405-8
H-240, Narrow Face to Face (Canadian Standard)
H-260, ANSI Face to Face
Non-Standard Face to Face
Downloads