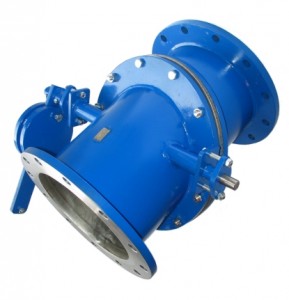 Design Features:
The H-900 is designed for horizontal or vertical flow with a large flow area (not suitable for down-flow applications).
The angled seat reduces disk travel from full closed to full open. The valve is equipped with a shaft pivot located slightly above centerline; pressure on disk area above pivot partiality balances pressure on area below pivot to reduce slamming. The valve is available with external counterweight and dampener.
The H-900 can be fabricated from any weldable alloy and is clearly marked to show direction of flow.
3″ to 24″ is standard, but larger sizes are available.
Angle Disk Check Valve (H-900) Specifications
SIZE RANGE:
Through 54″
TEMPERATURE RANGE:
up to 1000°F
PRESSURE RATING:
up to 150 psi
SEATING:
Metal or Resilient
MATERIALS:
Valves are available in solid or wetted parts construction in any weldable alloy, including Stainless Steel, Hastelloy, Inconel, Monel and Titanium.
ABRASIVE SERVICE:
Optional abrasion and corrosion resistant designs with hard facing available in Stellite, Tungsten Carbide, Pulse Fusion.
Downloads