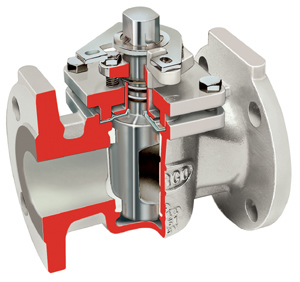 Applications:
Organic Chemicals, Alkylation, Fertilizer, Acid Transfer, Polymerization, Ag-Chem, Pulp and Paper, Inorganic Chemicals, Brine, Scrubbers, Slurries, Chemical Processing, Chemical Transfer, Mineral Processing, Corrosive Services, Mining, Ultrapure Water
Industries:
Chemical and Liquor, Water Injection, Cooling Water – Metals, Desalination, Descaling, Distillation, Leaching Acid, Logistics and Tank Farm, Pharmaceuticals, Polymers, Slurry Processing, Solvents, Acid Transfer, Utilities, Alkylation, Volatile Organic Compounds, Bleach Chemicals, Water Handling and Treatment, Caustic and Chlor-Alkali, Coatings
Standards:
ASME (ANSI), ISO 9001:2000, ISO
Flowserve invented the non-lubricated Sleeveline Plug Valve for the most corrosive and difficult chemical services where drop-tight shutoff is an absolute requirement. Nearly 60 years later, there are many imitators but no substitute for the quality, reliability, versatility and value you receive with Sleeveline valves.
Durco valves offer the process industries the widest range of non-lubricated plug valve models, materials, and configurations. This provides customers the flexibility to specify Sleeveline valves to meet virtually all of their applications needs.
Flowserve has the answer to your corrosion-resistant, quarter-turn valve needs, whether for on-off or modulating control.
Features 
Reduced turning torque and in-line seal adjustment due to the use of a tampered plug
Compatible with a wide range of Automax actuators and other instrumentation
PFA Reverse Lip Diaphragm provides a static and dynamic, self-adjusting stem seal
Actuator Mounting Pads-Actuator bracket mounts directly on flanges for solid support
Certified to SIL3
Available in Firesealed design
Available with fugitive emission stem sealing
ANSI or DIN flanges are standard. NPT screwed, socket and butt weld are available