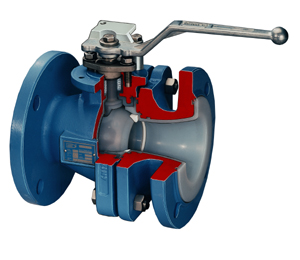 Industries:
Caustic and Chlor-Alkali, Chemical and Liquor, Food Processing, Leaching Acid, Bleach Chemicals, Waste Processing, Water Treatment, Acid Transfer, Agriculture, Pharmaceuticals
Flowserve is the world's leader in the design and manufacture of corrosion resistant fluoropolymer lined valves. Flowserve Atomac valves provide bubble-tight shutoff, low maintenance, no-leak stem seals, and the safety assurance of a blowout-proof stem assembly. For performance, safety, and reliability, Atomac is the valve of choice.
AKH3 has ANSI Body dimensions. Thick liner is 100% spark-tested with 20,000 V, made from highly corrosion-resistant FEP. A variety of metallic and non-metallic ball material options are available.
Ductile iron body sections (ASTM A39560-40-18) with high strength B7 fasteners are both robust and rigid. B8 bolting is offered as alternate. Designed in accordance with ASME B16.5, Class 150 flange dimensions and ASME B16.10 face-to-face dimensions. Leak testing according to API598.
Features
Lining securely locked into the body by T slots and locking grooves; completely encapsulated ball and stem.
PTFE chevron packing provides stem seal integrity while maintaining low turning torque.
Anti-blowout stem assembly prevents stem blowout
ISO 5211 universal mounting pad permits easy automation even with the valve in the pipeline
Characterized ball available for throttling applications
Stem Extensions Allow for insulation of valve